There are lots of things we have. Some are exclusive (Berger's anyone?) and some are just better here than anywhere else (anything and everything crab-related - and yes, I mean the whole Chesapeake, not just our corner of it). But no city has everything. A few of the things I miss from other parts of the world that I wish I could find here, with the first being the closest to get to from here:



1. Sonic Drive-Ins - Based in Oklahoma City, Sonic has over 3,000 locations in the United States, almost all of them in the South and Southwest. In just the greater Mid-Atlantic there are almost fifty in Virginia, two five in Pennsylvania, four in West Virginia, three in Delaware...and none here. Sure I would not eat there every day. Probably not even every week. But their drive-in service brings milkshakes, Texas toast, hot dogs, burgers and many more things right to your car. It's the perfect way to gain weight if you eat there on a regular basis. The last time I ate at one I was visiting former landlords who had moved to the Tulsa area. The closest Sonic to here? Ironically it's above the Mason-Dixon Line, around 50 miles away in Lancaster, Pennsylvania. Maybe I'll visit on the way to the Choo-Choo Barn. Sonic logo from Wikipedia.



2. Wagamama - With locations in 12 countries (mostly in Western Europe), this London, UK-based noodle chain charmed me twice, in London and Amsterdam. I have no idea how many locations this more-than-just-a-noodle-house noodle house can boast, but the food is amazing. It really gives "ramen" a whole new meaning. The closest Wagamama to here? Ironically, it's in the United States, two locations, both in Boston, Massachusetts - seven hours and 400 miles away, in Faneuil Hall and Harvard Square. Photo of the Wagamama near the Tower of London, from the hardware.silicon.com website.



3. Del Taco - Yes, another fast food place, based in Forest Lake, CA. Much of their food is junk, but Taco Bell can't hold a candle to this place. This is edible Mexican fast food. Every time I visit SoCal this is one of my very first stops, because I have to get two soft tacos del carbón, one chicken and one beefsteak, with chopped fresh onions and cilantro on top. You can find most of Del Taco's 500+ locations in the West. But there are Del Tacos scattered on this side of the Mississippi, including Tennessee and the Great Lakes. The closest one to here? Toledo, Ohio, about 475 miles away, or 7 1/2 hours by car. Photo linked from the 99W website.



4. Fat Tire Beer - A rich, smooth, full-bodied amber ale manufactured by the New Belgium Brewery in Fort Collins, Colorado, introduced to me by a former graduate adviser and his wife in Riverside, California. Fat Tire almost feels fattening in the mouth. It's so good, but it has no peer on the East Coast, since (like Del Taco) it's almost entirely found west of the Mississippi, with no immediate plans to get out here. The closest place to here that you can buy Fat Tire? Ironcially, east of the Mississippi, in Tennessee. I'm not sure where in Tennessee. Maybe somebody could volunteer that information for me? They probably sell it at least in all the major cities. The closest one to us is Knoxville - eight hours and over 500 miles away. Graphic linked from the New Belgium website.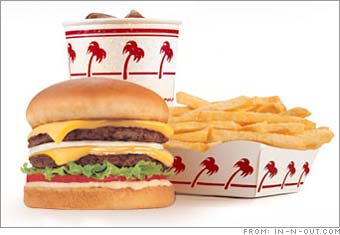 5. In-N-Out Burger - Whereas we might see the other four things in Maryland someday, In-N-Out Burger is now and will always be a West Coast franchise - with 200+ locations in Arizona, Utah, Nevada and (mostly) California. Unlike the "Hundred items for $1" state of McDonald's and similar locations, Irvine, California-based In-N-Out has just a handful of selections on its menu, and every single one is made from fresh ingredients. Nothing of a diet nature is on the menu, except for Diet Coke if you can get it. Since it won't be coming out here, I have to get out there. The closest one to here is in Phoenix, Arizona, almost 2,350 miles away - five hours by plane (use Southwest - they still don't charge for a second bag, much less a first one). Photo linked from the CNN website.