Just vegging out right now watching my all-time favorite movie of all-time,
Shaun of the Dead
(here's the louder
Paramount UK site
), on
Comedy Central
. It makes me laugh harder every time I see it! And it really is a classic when you think of it, taking that most hallowed of horror genres, the zombie flick, and just making it all funny. And not in a sarcastic
Scream
way, but instead you can tell that the auteurs really love this genre.
Simon Pegg
(Shaun) is perhaps a bigger
George Romero
fan than I, though I am a pretty big one - the original
Dawn of the Dead
is my next most favorite movie of all-time. Sort of puts my love for food in a whole new, slightly disturbing perspective.
While I don't particularly like eating
people
, there are a few other tasty things in the film.
There's that Cornetto and Diet Coke that Shaun gets from the local grocer (Oh I wish I knew what that Hindi radio station was saying in the background).
Of course, Shaun failed to make reservations for himself and girlfriend Liz to eat at "that place that does all the fish" - was it Italian or Portuguese? I don't know, though Shaun did suggest Thai at one point.
And of course Shaun's mum Barbara greets Shaun with the promise of tea, without two lumps of sugar (he hasn't taken it that way for years).

And there's the most favored meeting place of Shaun and BFF Ed, the Winchester Pub. When I went to London this past December I tried to find the actual pub they used, but I just didn't have the time, so I shrugged my shoulders and decided it was as good a reason as any to come back. Were I not sequestering myself indoors tonight (supposed to be rain, and I spent too much this past week anyway), I would go out to my local pub and have a cold pint of Guinness. I'll pass on the bar peanuts and corn nuts.
So my next question is: are there any good English pubs in town? This is a very important question because it may be this type of establishment I visit before I go see the new Simon Pegg movie
Hot Fuzz
(directed by
Shaun
director
Edgar Wright
and co-starring
Shaun
co-star/BFF
Nick Frost
). The movie is already doing gangbusters business in the UK and is opening here next week.
So to answer my question, I did a Google search for "
british pubs baltimore
" (it works whether or not you capitalize everything), and the City Paper website came up with a list of (gasp)
British/Irish

pubs
. The lack of distinction would irritate some, at least some Irish-Americans. Maybe it should irk this one, but I don't know. It seems that only one of the pubs on the list was British, the
Red Brick Station
in White Marsh. A little out of my way, though definitely worth a trip in the not-too-distant future. But I think next week will be my time to try out Mick O'Shea's, per so many commenters' recommendations.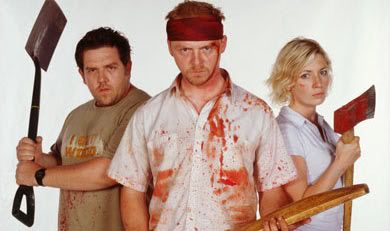 Here's hoping no rampaging zombie outbreak strikes Charm City. At least
these
guys can lend a hand.